Written by RetroFit™ Pilates RX
I just became certified by American Bone Health to give free seminars on Osteoporosis.  This is something very near and dear to my heart because my mother had osteoporosis so badly and didn't realize it until she tried to open a large bottle of Root Beer to make a float and she broke her back.  Actually, she broke a few vertebrae in her back.  That was the beginning of the ending.  Now I have a degree of osteoporosis even though I exercise like crazy.  This years' DXA Scan will tell whether I have osteopenia or osteoporosis or both.  One out of two women and one out of four men over age 50 will suffer a fracture because of osteoporosis.  Osteoporosis affects more women than breast cancer, uterine cancer and colon cancer combined.  There are lots of ways to prevent and treat this disease.  If you are interested in me coming to your area to speak on this subject please contact me at 310 913-3333.  Coming in July I will have an exercise program that is scientifically based to stimulate bone growth called the IPRSS (I press) METHOD.
ANNOUNCING the LAUNCH OF MY NEW BOOK  "FIGHTING GRAVITY"
Go to http://www.amazon.com, and poof, there it is.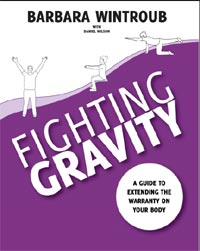 Your body parts have a shelf life and "Fighting Gravity" is a guide to extending the warranty on your body parts.  You will be introduced to the best ways to begin a safe exercise program using items around your house, the steering wheel of your vehicle and your desk at work.  "Fighting Gravity" is a humorous, self-help, fitness book for those who don't exercise.  "Fighting Gravity" will be a wonderful gift for loved ones and friends who you would like to motivate to "Just Suit Up and Show Up" otherwise- if you don't "move it you will lose it".
If you would like to purchase a signed copy, please call or email me (310 913-3333 or bwintroub@retrofitpilates.com)
ON LINE HOME STUDY CERTIFICATE PROGRAM FOR HORIZONTAL REBOUNDING TECHNOLOGY
(Aerobic Jump Board)
on my web site www.retrofitpilates.com
The program includes:
Teaching instruction from the originator of Aerobic Pilates Jump Board Training
Two Jump Board DVD's plus a Manual and mail back exam
3 CEC's (ACE and PMA) in HRT
Certificate of Completion showing professional growth
only $119 (tax and shipping included)
Please call or email Barbara for more information.
Watch for BOOMER-ILATES AND BEYOND HOMESTUDY IN JULY
See my latest article on Pickleball Fitness.
Barbara will be interviewed by Marilyn Gansel on June 9th on her radio show http://www.fitnessmatters.com.
Marilyn Gansel, Doctor of Sports Psychology and Holistic Lifestyle Coach & Fitness Professional, will interview Barbara on Fitness Matters on Thursday, June 9 at 7:00pm EST. To hear the show, please go to http://www.FTNS.co, the radio station online. You can call in at 650-ASK-FTNS or email DrMarilyn@FTNS.co during the show.