I have two new clients.
The first one had two broken patella's from two separate falls. Then she took Gyrotonics and she said she tore both rotator cuffs being pushed too hard with too much weight.
Her doctor said absolutely no squats or bending her knees back behind her.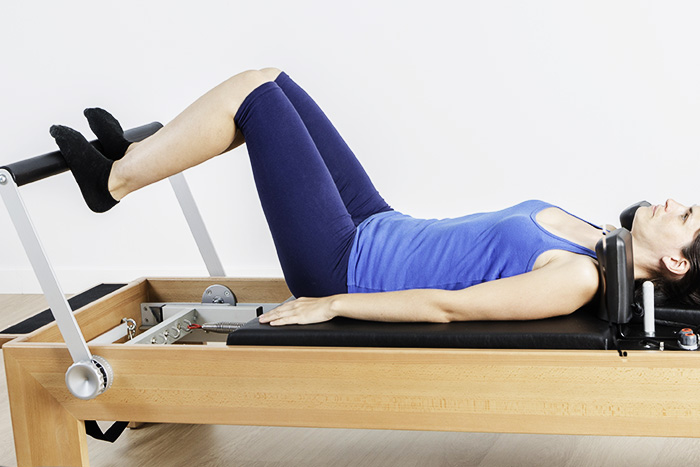 I set the foot bar up with a little extra space to accommodate her knee bend. I used one red and one blue spring to begin the footwork. I kept her legs hip width apart to watch patella tracking.
We made it through a few exercises along with heel drops. I actually tried one yellow spring to see if she could connect to the back side of her body.
All went well at first. I had her go into turnout, pressing heels together.
Unfortunately, her knee started to click and she got concerned so we did single leg keeping one leg at table top.
She couldn't even bring her free leg in and out. We carefully did hands in straps but had her palms turned up toward the ceiling to disengage pecs and lats. Feet in straps went well but she couldn't do frogs. We went to the trap table to do heel slides and toe touches for her abdominal series but she commented that her knees were sore so she couldn't do those exercises.
I had her stand at the wall on her toes squeeze her buns as she went down and up from floor to releve. A few side stretches at the wall and we were done.
Sometimes you just have to have a plan B or plan C and lots of extra tools in your tool bag.
The second client just couldn't figure out how to breathe. She kept pursing her lips to force the exhale while bearing down and pushing out her stomach.
Breathing correctly became an issue while exercising so we had to take breathing all by itself and just work on that. I still needed to give her a workout without giving her frustration. We worked on quadruped breathing and how to pull in the TA while blowing out air (saying ahhhh).
This was quite a teaching experience. I do this kind of work often. No traditional Pilates for me this day. I must teach to my audience and their abilities or lack of abilities. Are you a problem solver or do you just do the same old thing with everyone. Giving individualized programs make you a special teacher.
Be a SPECIAL TEACHER and a Problem Solver.